Like so many towns in Western Pennsylvania, Homestead Borough is proud of its past, and honors the hardworking men and women who built our town and cemented its place in American history.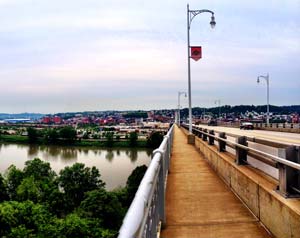 Rich in history, Homestead Borough has seen its shares of ups and downs since the first settlers arrived in 1770. The Borough was first incorporated as a municipality in 1880.
Though the steel mills may be gone, Homestead Borough is undergoing a renaissance, attracting new businesses and new residents to our historic downtown. And though there are many new faces, Homestead is still a place where people will smile and say hello when they walk down the street.
At just 0.6 square miles, Homestead Borough is a major piece of the Steel Valley landscape. Our businesses and residents are closely intertwined with Munhall and West Homestead, with whom we share many amenities and attractions.
We are a diverse town. Young professionals, families, and seniors whose parents and grandparents worked in the Homestead Works Steel Mill all call each other neighbor. Our residents come from a variety of cultural backgrounds, creating a unique mix of urban and suburban lifestyles.
Our business district is just as diverse as our residents. With new retails shops, services, and restaurants opening all the time, downtown Homestead is alive with interesting things to see and do. The Waterfront Shopping Center offers a variety of retail and entertainment options. Outdoor adventurers including, bikers, hikers, and runners have easy access to the Great Allegheny Passage Bike Trail, experiencing some of the most beautiful outdoor space the Steel Valley has to offer.
Even if you think you know Homestead Borough, you might be surprised at what we have to experience today.
Stop by and visit us soon.